INTCH(U) DKCH USCH DEVDHCH KLBCH KLBJCH NordV16
Starbuck Torbay Scandal at Woodland West (Timmy):
(GCh Bridgehill Mr. Mason's Misbehavin' X GCh Woodland West Wallet Candy)
International Champion

Danish Champion

American Champion

German VDH Champion

Danish Beagle Club Champion

Danish Junior Champion

Nordic Winner 2016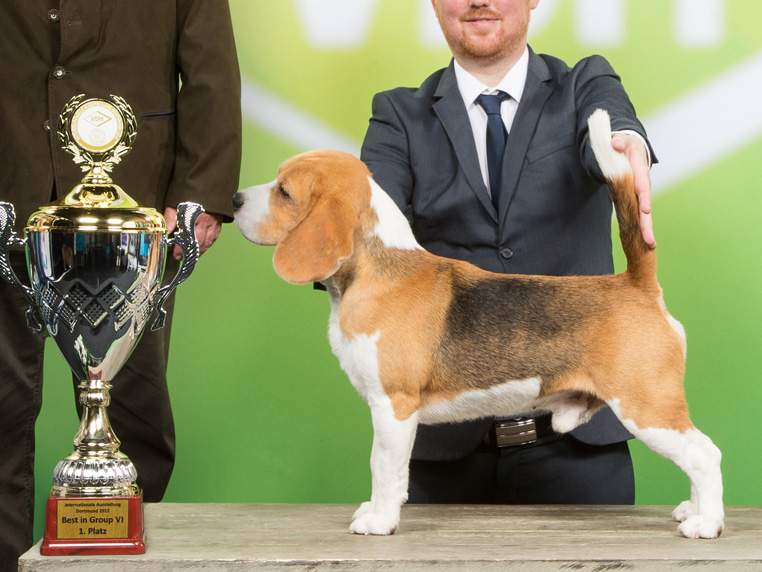 Starbuck Torbay Scandal at Woodland West
 

Multiple BOB-winner and group winner

12 x danske certer


 

 Thanks to the following judges for awarding CAC:

Petru Muntean, RO
Kresten Scheel, DK
Annette Bystrup, DK
Annukka Paloheimo, FI
Horst Kliebenstein, DE
Jette Vind Ramvad, DK
Espen Engh, NO
Silvia Weber-Martegani, CH
Elly Vervoort, NL
Isolde Huber, DE
Hans Van Den Berg, NL
Trygve Heyerdahl, N
Monika Blaha, A

38 cm / 15 inches 

D.o.B: 05.05.2014

 

HD-B

Lafora (Clear)

MLS :(clear)

IGS : (clear)

NCCD : (clear)

 

Spermquality: "Excellent", 95% Motility
Timmy is sired by the 2 winning beagles from Westminster 2013 - BIS BISS GCH Bridgehill's Mr. Mason's Misbehavin and GCh Woodland West Wallet Candy.
He is bred by David & Lesley Hiltz, and Linda Clark, and he became succesful very quickly.
He gained his American Championship in 2015, and in 2016 he won a recordbreaking 12 CAC's before he was old enough to gain the Danish Championship. The same year he was awarded "Beagle of the year" in Denmark.
He has so far been in all-breed Best In Show-finals in 3 different countries - Denmark, Germany and U.S.A, and has multiple Best of Breed history.
Timmy has a lovely temperament, and is tested free from MLS, IGS, NCCD and Lafora. Hip status is HD-B.
Stamtavle

GCH CH

 Bridgehill's Mr. Mason's Misbehavin'

USCH Einstein's Speed of Light

USCH Ha-Penny's Too Much Trouble

USCH Ha-Penny's Clarion

USCH Echo Run Calliope of Hapenny

USCH Amante's She's All That

USCH Willwood's Winchester

Willwood's Potpourri

USCH Bugle's Fancy That Miss Daisy

USCH Windkist Life of the Party

USCH Just-Wright I'm a Pepper Too

USCH Bijoux A Walk in the Clouds

USCH Willwood's Eva Gabor

USCH Kahootz Chase Manhattan

USCH Copper Rose Heaven Can Wait

GCH CH

Woodland West Wallet Candy

( HD-A )

USCH Jabrwoki's Le Jazz Hot

USCH Barrister's Scoundrel Time

USCH Starbuck Torbay Hang Time

USCH Barrister's Play Wright

USCH Barrister's the Wright Tone

USCH Jabrwoki's in a Mellow Tone

USCH Just-Wright Calendar Girl

USCH Willwood's Hot Lips Hula Hand

USCH Willwood's Joe Cool

USCH Lanbur's the Continental

Willwood's Gabrielle

USCH Copper Rose Heaven Can Wait

USCH Willwood's Call Me Joey

USCH Copper Rose You Go Girl
---
---
---
Some puppies after Timmy
Timmy has already proved himself a good studdog. This is only a few of his progeny:
Litter with Famous Joker Princess Isabel (Denmark) (4 puppies)
• Famous Joker Honey-Bunny (Honey)
Litter with Starbuck Torbay Pillow Talk (Denmark) (3 puppies)
• USCH Symposions Cappuccino At Starbucks (Brew)
• DKJV16 Symposions Coffee At Starbucks (Buck)
Litter with 

White Chicks Gina From Elly's Pack (Finland) (5 puppies)
• Maishade's Honor Thy Father
• Maishade's Kiss Kiss Bang Bang
• Maishade's That's My Girl (Fina)
• Maishade's Crash And Burn
Litter with Gold Line's Posh Cocktail

 (Denmark) (8 puppies)
• Black Robe's Rainbow Whoopee
Litter with Ob-La-Di's Cartoon Peppermint Patty

 (Denmark) (6 puppies)
• Absolut Beagle's Bright Bonita (Pippi)
• Absolut Beagle's Bright Benson (Benson)
Litter with Symposions Blue Gypsy

 (Denmark) (6 puppies)
• Symposions Eddie The Eagle (Eddie)
• Symposions Evel Knievel (Batman)